It has been in operation every day since last Saturday, April 9, from 10 a.m. to 6 p.m., with traffic every 15 minutes.

The Sant Joan Funicular, managed by Ferrocarrils de la Generalitat de Catalunya (FGC), has resumed its commercial service offer this past Saturday, April 9, after being out of service since January 10 due to the overhaul annually. The Funicular, which covers a distance of 503 meters with a maximum slope of 65%, offers visitors a spectacular view of the mountain of Montserrat and provides daily service from 10 am to 6 pm, with traffic every 15 minutes.
In addition to the funicular ride, the new station, located at an altitude of almost 1,000 meters, is home to the new viewpoint of Sant Joan, which opened last year, and the Interpretation Center of the Geopark of Catalonia and the Montserrat Mountain Natural Park, a space that shows the history of the formation of the mountain of Montserrat, its climatic conditions and its fauna and flora. It is also the starting point for excursions and walks marked by the Natural Park.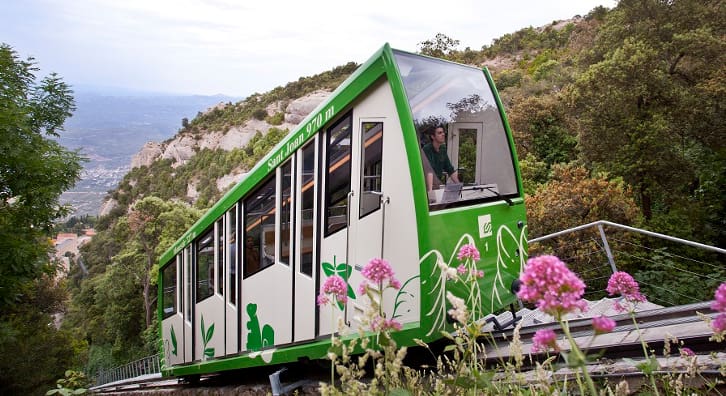 Coinciding with the annual review of the Funicular, and as a result of Ferrocarrils 'commitment to preserving the territory through which the tourist trains it manages run, work has also been carried out to improve and stabilize the rock walls through which the funicular runs. These improvement tasks have been divided into two phases and the second will be carried out during the next stop of the Sant Joan Funicular, scheduled for January 2023, and will consist of the installation of other retention systems.
Arriving to Montserrat in the most sustainable way
The Sant Joan funicular, as well as the Santa Cova funicular and the Montserrat rack railway, bring visitors closer to one of the most emblematic places in Catalonia, the Montserrat Mountain Natural Park. Through these sustainable means of transport, visitors have the opportunity to live a unique experience in the middle of nature.
In addition, it can also be reached by public transport, just an hour and a half from Barcelona, ​​with trains accessible for people with reduced mobility and with the possibility of buying the ticket online.
On the other hand, the Montserrat rack railway and funiculars are public tourist transports that use 100% of the solar electricity, so they reduce CO2 emissions as much as possible and improve the conservation of the natural space where are located. They also have several quality certificates, such as the ISO 14001 Environmental Management Certificate, the Applus Quality Seal and the Safe Travels Seal from The World Travel Tourism Council (WTTC), which accredit them as tourist quality sites.