Discover Montserrat Rack Railway 
How to get there
Your journey to Montserrat from Barcelona
Don't you know how to get to Montserrat from Barcelona? It's easy! From Pl. Espanya station in Barcelona or from other stations of the FGC Llobregat-Anoia line you can catch any train of the R5 service towards Manresa if you are coming from Barcelona, or towards Barcelona if you are coming from Manresa. You have to get off at Monistrol de Montserrat station, where the rack railway will take you to Montserrat station, passing through Monistrol-Vila station.
Visitors that come from any other point of the R6 service (Igualada) on the Llobregat-Anoia line will have to change trains at Martorell-Enllaç station, to the R5 train service.
For further information, you can check FGC schedules and itineraries, the schedules of Llobregat-Anoia line, information about the Rack Railway combined tickets or the timetables of the trains that leave from Plaça Espanya to the final stop of Montserrat Monestir.
For those coming by car, they can park for free in Monistrol de Montserrat and take there the Rack Railway. Monistrol-Vila station is off the C-55 and has a free car park with room for 1,000 cars and 70 coaches. At the station they can buy a ticket for the rack railway, which takes them to the centre of Montserrat Monastery.
They can also get there from:
 · Motorways A-2 and AP-7, leaving at Martorell and taking the C-55 at junction 582A-Abrera.
 · Motorway C-58 leaving at Castellbell i el Vilar.
· From Eix transversal, leaving at Manresa towards the C-55.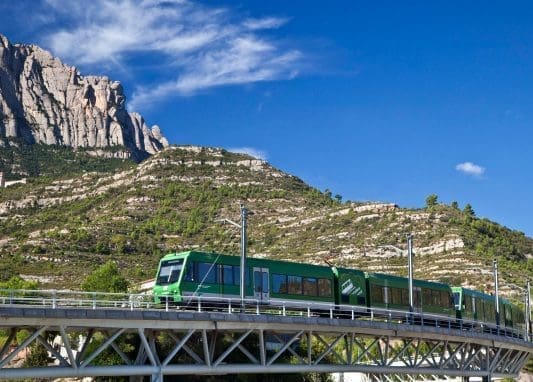 By train
All the FGC train stations sell combined tickets for the train journey and the rack railway up to Montserrat.
For further information, you can check FGC schedules and itineraries.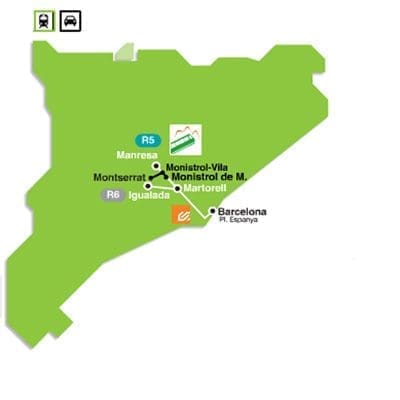 By car
Motorways A-2 and AP-7, leaving at Martorell and taking the C-55 at junction 582A-Abrera
Motorway C-58, leaving at Castellbell i el Vilar
From Eix transversal, leaving at Manresa towards the C-55