Every year, thousands of people, residents or foreigners, visit Montserrat mountain for its beautiful and curious location, its natural environment or its exceptional display of culture and religion.
Have you ever been there? Would you like to go? We'll explain you how to go to Montserrat from Barcelona!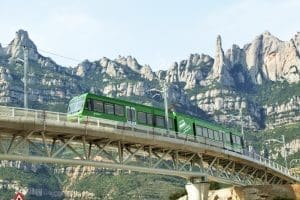 ---
For those people from Barcelona or surroundings, or tourists visiting the city, ​​the easiest way to go from Barcelona to Montserrat is from Plaza España station or any of the stations on the Llobregat-Anoia line of FGC and take any train of the R5 service.
The last station will be Monistrol de Montserrat, where you'll have to take the rack train to the Monastery of Montserrat.
---
In order to know the frequency and the rates of the tickets of the R5 line, it is recommended to consult the itinerary and schedules of Ferrocarrils de la Generalitat de Catalunya (FGC) web page. As for the time and rates of the rack railway train, you can easily find them in the rack railway rates and schudle section of Montserrat's web. There are also combined tickets that make up train trips, rack railway and activities in Montserrat:

-Trans Montserrat: This combined ticket is a great option to have three tickets in one for not much money. It includes the metro ticket, the round-trip train ticket FGC to Monistrol, a round-trip ticket on the Montserrat rack railway, tickets with the Sant Joan and Santa Cova funiculars and entrance to the Espai Audiovisual of Montserrat.
– Tot Montserrat: As its name suggests, the Tot Montserrat combined ticket offers the possibility to easily reach Montserrat, visit the different places with both cable cars and also live a gastronomic and cultural experience.
---
Includes metro tickets, roundtrip ticket on FGC train to Monistrol, round-trip ticket on the Montserrat rackrailway, tickets for Sant Joan and Santa Cova funiculars, buffet lunch, entrance to the Montserrat Museum and entrance to the Audiovisual Space.
For those interested in arriving by car, they can do it from the A-2 and AP-7 motorways, leaving in Martorell and taking the C-55 at exit 582a-Abrera, from the C-58 motorway, leaving Castellbell and the Vilar or from the transversal axis, leaving in Manresa, direction C-55.
Once at the Monistrol-Vila station, you can park in a free parking with capacity for 1,000 cars and 70 buses. Here, you can buy the ticket to travel comfortably on the rack railway train.
Do you already have tickets to go to Montserrat? GET YOUR TICKETS HERE!